Snorkeling is a great way to begin your underwater adventures. It's your chance to start exploring a new and fascinating world. Suitable for all ages, snorkeling provides both action and relaxation - whatever you are looking for. y fascinante mundo. Apto para todas las edades, el snorkeling te proporciona tanto acción como relajación - todo lo que estás buscando. FOR CENTURIES, THE MYSTERY AND BEAUTY OF THE UNDERWATER WORLD HAS FASCINATED THE HUMAN RACE. Today, more than ever, we continue our quest for adventure in this new world. We yearn to feel our weightlessness in water, to swim with the animals of the sea, and to admire the beauty of ocean reefs.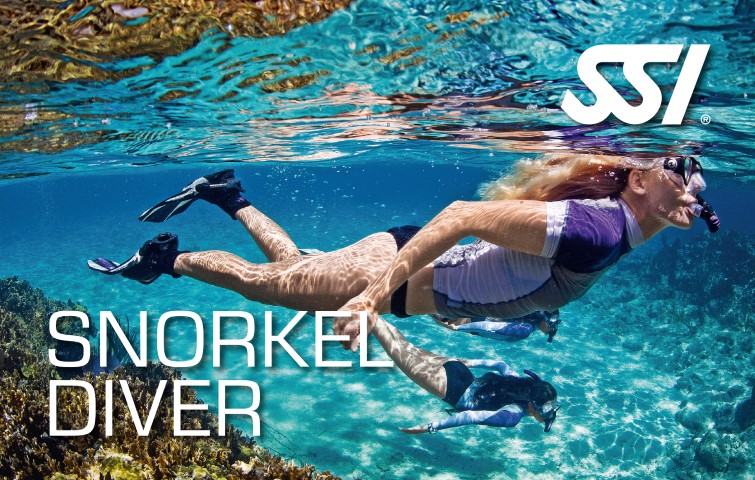 Snorkeling is an exciting activity that anyone, young or old, can enjoy with a minimum of equipment and little training. Snorkeling is a great year-round activity. TO GET THE MOST OUT OF YOUR SNORKELING EXPERIENCE YOU NEED TO LEARN THE RIGHT SKILLS IN QUALITY SNORKELING EQUIPMENT THROUGH AN ACCREDITED SSI SNORKELING PROGRAM.
There are many activities available to the snorkeler (ex: Underwater Photography) and your local SSI Dive Center Blue Bottom can help point you in the right direction. You will quickly learn that snorkeling is more than just an experience for your diving vacations, it is an exciting leisure-time activity that provides limitless possibilities.
Snorkeling tours with Blue Bottom Diving are available every day. Snorkelers are taken to the most protected and sheltered areas possible, usually the Puertito. Here the depths are shallow from 2 to 12m and you will see just as much marine life as turtles, trumpet fish, cuttlefish and the divers. Have a look at the photo gallery to get a good idea of what to expect. All snorkelers are carefully supervised and the boat is only ever a short swim away. This is a great introduction to the marine life in the area.
The boat trip itself is also lots of fun. We will enjoy breathtaking views of the island of La Gomera and Teide Volcano on the way.
Includes hire of wetsuit, mask, snorkel and fins
---