SSI Open Water Course in Tenerife
PADI Open Water Course in Tenerife
There is a very good reason why PADI chose us as the "most innovative diving center" in the whole of the Canary Islands (Tenerife) in 2010. When you learn to dive with us you will discover why. Do not settle for the second best!
The Open Water Diver course is the most popular dive course in the world and it has introduced millions of people to the dive adventure lifestyle. Becoming an Open Water Diver (OWD) is the best way to start your adventure.

With a maximum of four students to each of our instructors, you will gain confidence and experience unmatched by any other scuba diving classes.
With this approach, your instructor can more easily target specific areas that you need attention to, rather than wasting your time while they concentrate on other students. As a result you will get more time having fun scuba diving, finishing the course a much better diver. This lets you complete your course with only 3 days of in-water training.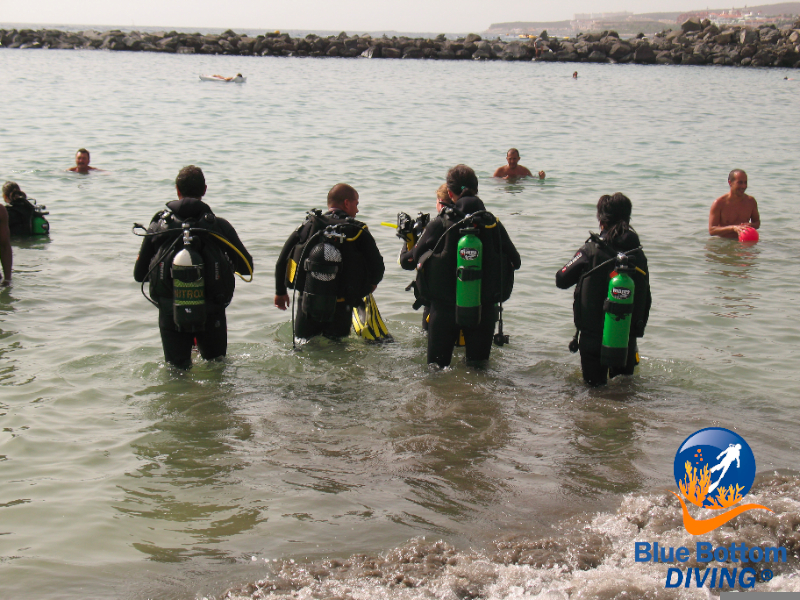 NOTA: If you have a group of more than three you can still learn together all we do is add another instructor to keep the student to instructor ratio at a maximum of 4 students for each instructor

It is the time to select the dates the theory training option that suit you best, digital learning or traditional theory.
Learning to scuba dive has never been more convenient!
This is quick and easy with only small classes (4 students per instructor). You will maximize your learning while giving you great flexibility.
Designed with the busy diver in mind, Digital Theory is all about convenience – the opportunity to begin and continue diver education beginning on the internet and continuing through SSI Dive Center or PADI Dive Center. Through an interactive web-based program new students will read, hear and see the same material other student divers receive from interacting with the Open Water Diver manual and video or multimedia. Simply sign up online and begin your eLearning (it takes 8-10 hours to complete this program online).
Through an interactive web-based program, new students will read, listen and see the same material that other student divers receive with the Open Water Diver manual and video or multimedia. Simply register online and begin your learning in the digital age. It takes between 8 and 10 hours to complete this online program.
This course is almost completely fun because learning to dive is incredible. Breathing underwater for the first time is something you will never forget and learn what it takes to become a certified diver. Through personalized training and dedicating enough time we make sure that you feel really comfortable under the water with the skills and equipment that you will use.
Book the days you would like to do your in-water sessions then complete your eLearning theory online. Your in-water training is reduced to 3 days because we have no more than 4 students for each of our instructors, eliminating waiting time like in standard groups of 8 or more! You will then be a diver, ready to enjoy this fantastic sport.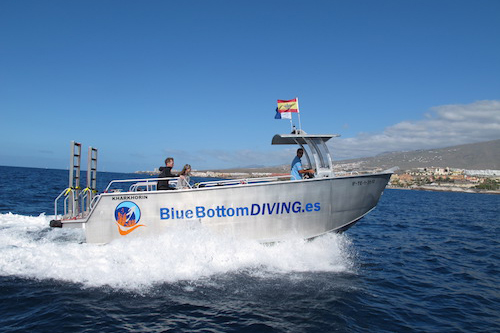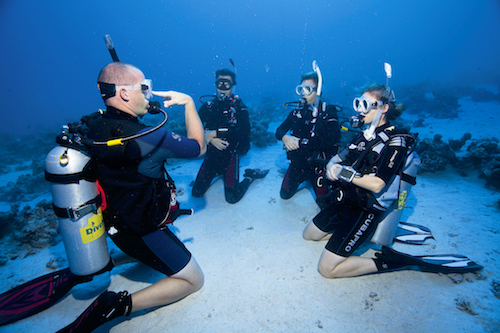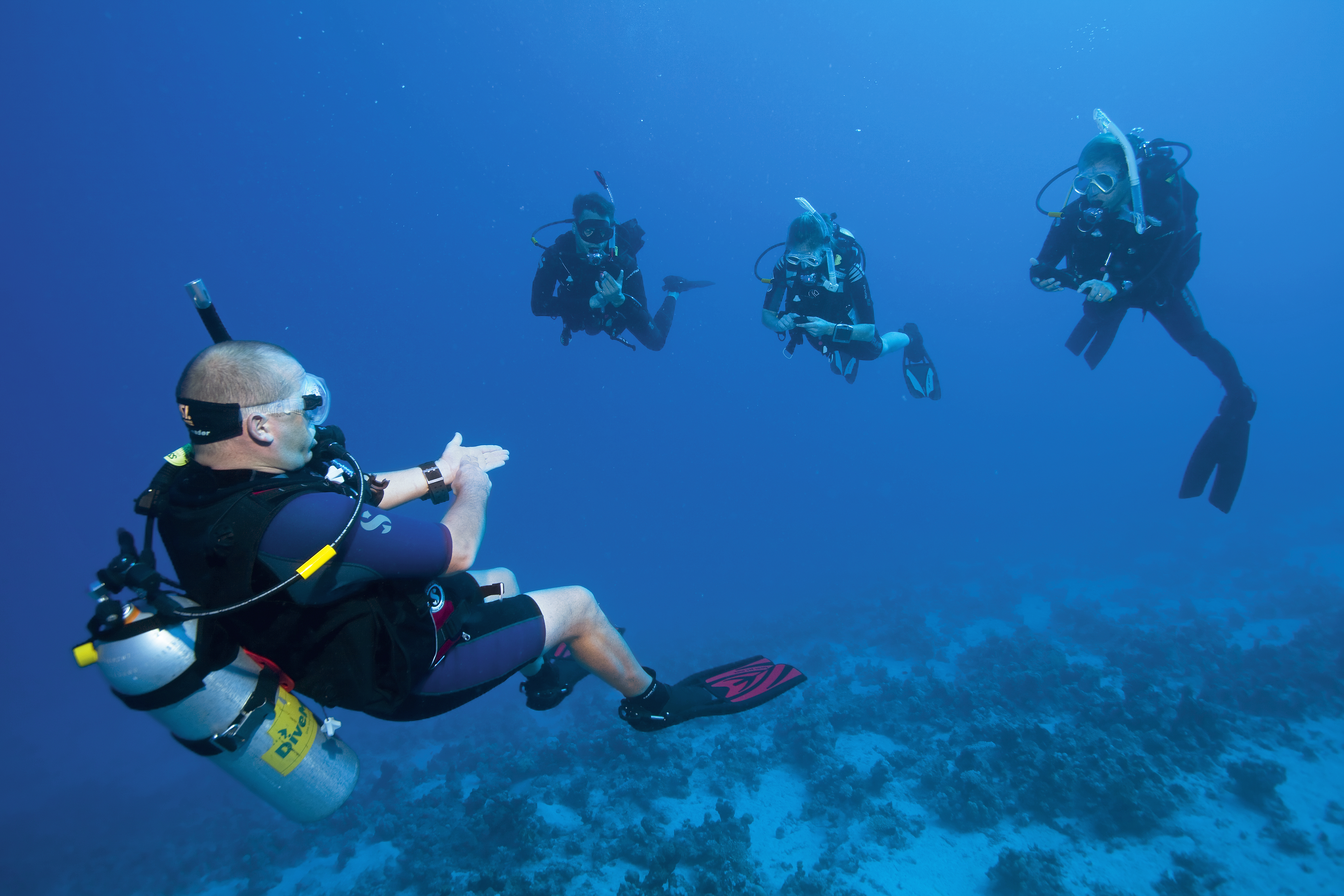 The Open Water Diver Course consists of three parts:

1.- THEORY OR DEVELOPMENT OF KNOWLEDGE
Learn and understand the basic principles of scuba diving, learn how it affects the pressure on your body, what to consider when planning dives, how to choose your diving equipment. Make small questionnaires to check that you have understood everything. At the end you will take a test to ensure that you have assimilated key concepts and ideas. Your instructor will help you in what you need to make it clear.
TRADITIONAL THEORY
If you prefer the traditional method, the theory will have to do with the Manual and DVD. You have to watch the DVD and read the manual on your own time. You need two days to complete the theory for this method. In Blue Bottom Diving have the latest multimedia technologies and you are able to watch the videos in your Diving Center.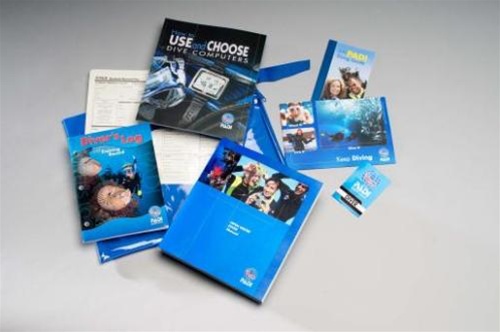 2.- TRAINING SESSIONS CONFINED WATERS: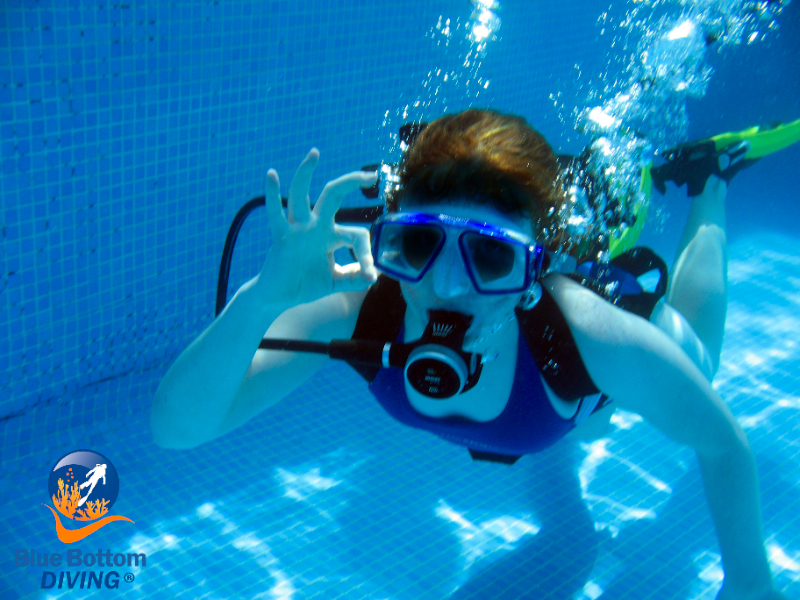 The confined water training sessions are designed for you to enjoy a smooth transition to the underwater world. These sessions will help you relax and have fun in the water using scuba equipment. All this is accomplished with your instructor by your side. We will have plenty of time to cover all scuba skills and gain proficiency in scuba techniques.

You will learn from preparing your diving equipment to emptying the mask without surfacing, such as sharing air, removing and putting equipment, etc...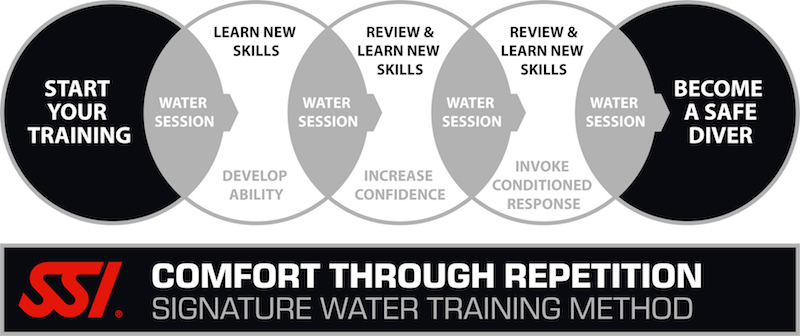 3.- OPEN WATER TRAINING DIVES
All four of your open water training dives will be done in the ocean from boat. On these dives you will confidently demonstrate scuba skills that were practiced in the confined water. You will not be asked to do anything that you have not already practiced in the confined water. The skill portion of the dive takes about five minutes. The rest of each dive is spent exploring the fascinating underwater world.
The duration of the Open Water Diver Course may vary but it is possible to finish all your training in both confined water and four open water dives in three or four days. The Open Water Diver Course is very flexible and performance-based. In Blue Bottom Diving we are interested in becoming a safe diver and diving regularly, this means that you progress at your own pace (faster or slower), it does not matter, and your instructor will help you to be a successful diver.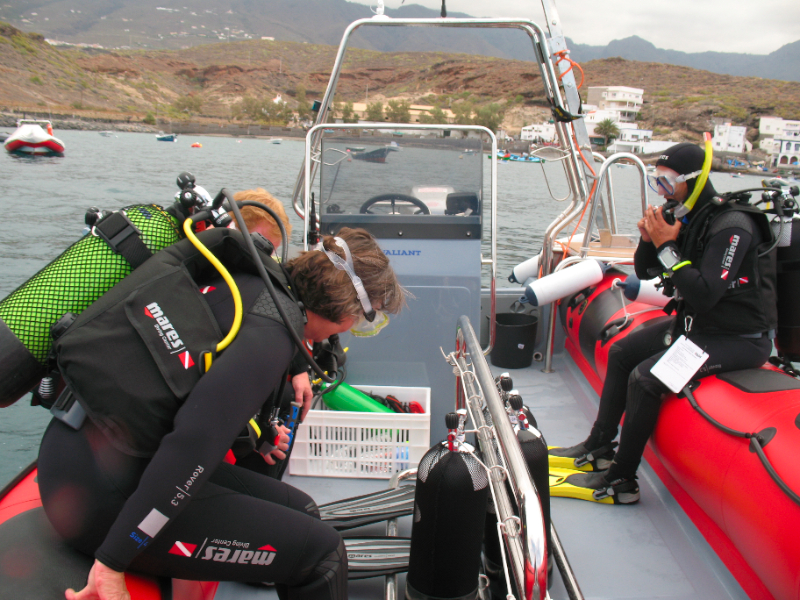 NOTE: If you've completed your theory work elsewhere and have a referral from that school, you may complete the open water training portion of your certification only....
Please note Children between 10 - 14 years of age will qualify as Junior Open Water Divers & must dive with an adult certified diver Divers.
Do I have to have my own dive equipment for the Open Water Diver course?
No, it is not necessary. Choosing and using your own dive gear is part of the fun of scuba diving. In Blue Bottom Diving we will help you to choose the part of the equipment in which you are interested, especially mask and snorkel, because they are elements that have a personal adjustment, you will be more comfortable learning and they will help you to enjoy the diving. There is no better diving equipment, but the best one suits you and it is here where the instructors of Blue Bottom Diving will advise you, always depending on your preferences, adjustments and budget.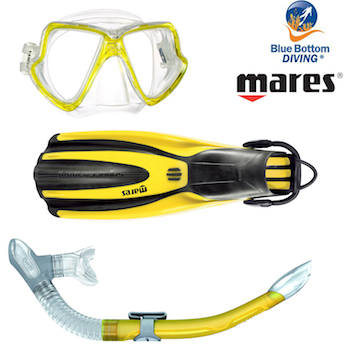 INCLUSIONS
SSI Open Water Diver Certification Card or PADI Open Water Diver Certification Card
Confined water sessions & four ocean dives
All gear´s supplied during the course (no need to buy anything)
Maximum of four people per instructor staff
Free photos for your certification card
Dive log book
Open Water manual for those doing the traditional course but for those students doing digital theory or e-Learning you will receive access to materials online
Special insurance for students of diving during the course
A lot of fun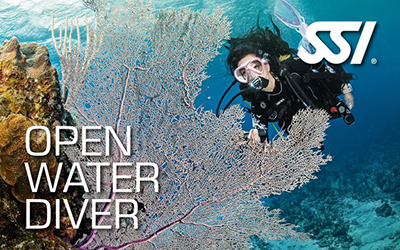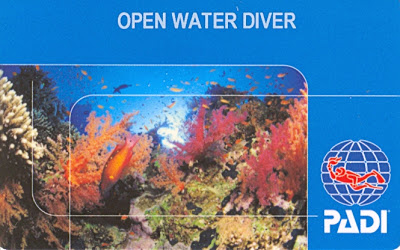 PRE REQUISITES
A Dive Medical examination
Minimum age is 10 years, maximum age 70. Children under the age of 18 must be accompanied by a guardian or adult to sign the authorization.
You must be able to complete a 200-meter swim & be able to tread water (float) for 10 minutes.
These pre-requisites are designed to ensure that you are able to complete the course safely and confidently. Our instructors are only too happy to help you complete any details to ensure your smooth progressive through the above pre requisites.
Some medical conditions may prevent you from diving.
For example: heart disease, asthma, epilepsy or diabetes.
It is recommended that women avoid diving during pregnancy
If you are unsure of a particular medical condition, please check with us prior to reservation.
With this certification you will be able to:
Diving in all the centers near your area and enjoy diving around the world.
Diving with a buddy independent of supervision, unless you want a guide.
Enroll in other certification courses like Advanced Adventure, Specialties and Stress & Rescue Diver.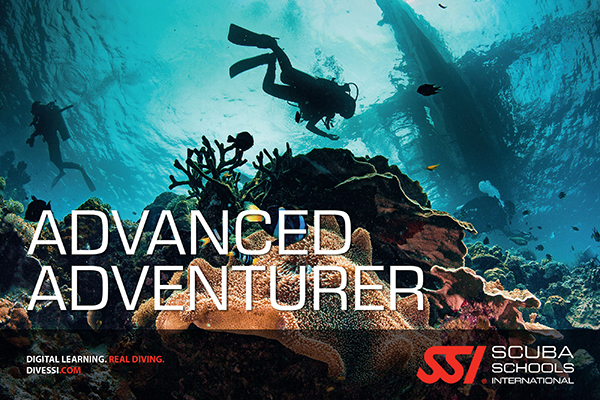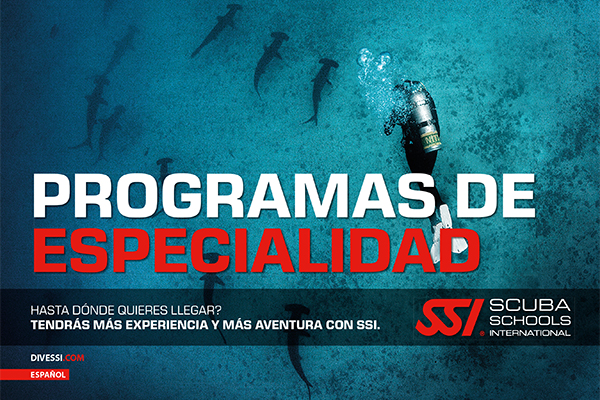 ---